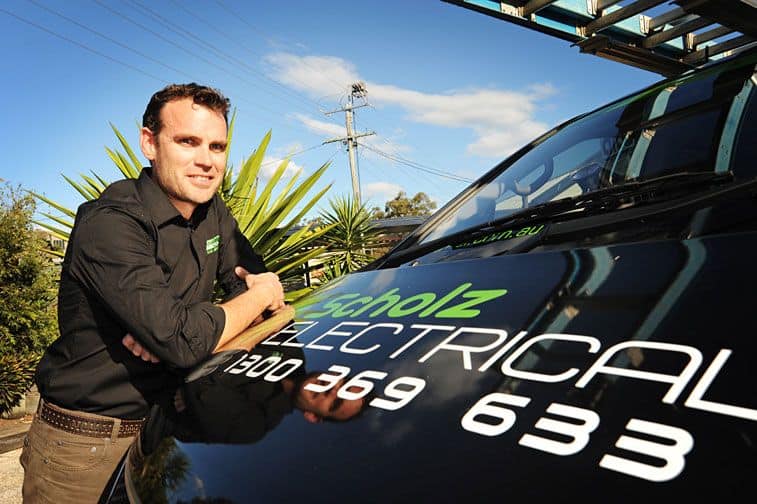 YOUR TRUSTED MASTER ELECTRICIAN
We're more than just electricians, we're problem solvers and solution finders! We'll look after you.
All costs will be included, so there'll be no bill shock on installation day.
All costs included.
No bill shock.
12-month
guarantee
on all workmanship
Rated 4.3 stars on
Google Reviews
Our Electrical Services
We are proud of our knowledge and experience. Browse the categories below to learn more about the range of electrical work we offer.
10 Reasons To Choose A Scholz Electrician
Want the Best Electricians In Brisbane? Here's What Our Customers Think
John Mugwanashaka
February 24, 2021.
Smart electrician
Investigative Journalist
January 9, 2021.
Thank you Michael and your team for your professionalism and amazing work. You arrived on time, took time to explain things to us, and undertook a fantastic job. Thank you. You run a great business, do quality work, are clearly very customer focused, and it shows. 🙂
Dexter Lim
February 17, 2020.
Excellent service, the electricians were patient in explaining what they needed to do, performed the work in a timely manner, and cleaned up after themselves. Will use again.
Emily Birch
December 20, 2019.
100% recommend Scholz Electrical. They are always prompt, polite and so helpful in every job they do for you. Nothing is too big or too small. All of their electricians that I have dealt with are polite, respectful and helpful. The office staff are equally so. I cannot recommend them enough.
Avril MacFarlane
July 29, 2019.
Excellent service. Highly recommended.
George Sonny
May 9, 2019.
Highly recommend! We used Scholz Electrical for our renovations at our new house and they did a fantastic job. They were prompt, friendly and inexpensive. Thank you!
Wonderful service. A business that does the right job the first time. Full solar and aircon installation. Currently service my rental properties
Absolute professionalism from this Company, installed Aircons in every room, smoke alarms and PowerPoints, great service, very tidy and a great price. Highly recommend
Frequently Asked Questions
What the insurance covers in the event of an accident or unforeseen damage?
David
2022-12-16T09:28:46+00:00
In the event of an accident or unforeseen damage as a result of our work, a third party, either our client or any other member of the general public, will be financially compensated.
Is your work guara
Contact Our Master Electrician Today!